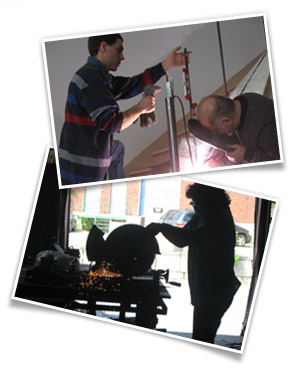 CUSTOM METAL WORK

We are mainly specialised in the fabrication of high end, customised metal work; we can undertake projects using steel, stainless steel, and other types of metal. We do: railings, stairs, furniture, fences, gates, doors, objects, and small structural projects.

Each project is tailored for every individual client; his requirements, his style, his budget and his site's characteristics are all ingredients for the ultimate solution.

Steps we cover: precise measurements of the space, thorough study of the project, consultation and design, technical drawings, fabrication, anti rust treatment when needed, paint, and installation

Designs: With our signature designs, the possibilities are endless. In addition, we can fabricate completely customised designs. We cover all styles from modern to classical.

Coatings: we strive to make every coating technology available to you:
Powder paint with the endless colors and effect. Asset: shock resistant and weather durable.
Plating: beautiful effects of bronze, brass, chrome, and many other antiqued colors.
Galvanize or zinc plating: long lasting anti-corrosion treatment.
Hand brushed patina effect: antique gold, black, bronze and copper.
CONSULTATION AND SHOWROOM

Our showroom is open to all. It is the ideal place to get to know the variety and the quality of our work. Professional consultation is available by appointment. Designers and engineers would be made available in order to find the solutions that are best for you.

Suggestion for efficiency: for cost estimates, we ask you to bring sketches or pictures of your space, "a picture is worth a thousand words." Dimensions are a plus.
FORGED STEEL COMPONENT

For welders and blacksmith, our goal is to provide you with a wide selection of top quality forged components. The combinations are endless and the result is perfectly satisfied clients. Please consult our beautiful collection.
RENOVATIONS AND REPAIRS

You can send us an email with detailed pictures, descriptive text and complete coordinates for a faster response.
COMPONENTS FOR WOOD RAILINGS

The warmth of the wood and the prestige of ironwork have finally made it's way into a trendy combo. The most common and economical way is to order individual wrought iron components and have them custom finished to your liking, then install them in the wood. It is easy to order, faster to fabricate and simple to install. Each panel can be anchored individually, the combinations are endless, and all colors are available. Whether you are a handy man, a professional stair builder or a home owner looking for a new look, our wrought iron panels are the perfect solution to having the luxurious look of wrought iron railings combined with the warmth of wood, at a very good cost. Pamphlet